With an increase in the prices of fossil fuels, the world has been focusing on new means of renewable clean energy which is cheaper and environmentally friendly. Wind energy is one of the most important types of renewable energy. In ancient days back to 3500 BC, wind energy was used to produce aerodynamic push to meet very low energy demands to drive boats. As the years passed, there were observed some innovations and modifications in design resulting from more energy needs. First windmill was developed in China and it was a vertical axis windmill having long curved metal strips as blades. Windmill rotor was connected to a large pulley having many small water buckets mounted over a rope.
Renewable energy has always been a key research area for many researchers because of continuously increasing energy demands.RECAST in support of forigen aid in 2035 BS, a windmill was installed with the purpose of developing a wind-based pump in Nepal to supply drinking water around TU with zero energy consumption. But the wind pump has remained out of operation till just very recently letting fauna to grow over it and rust to collect all over.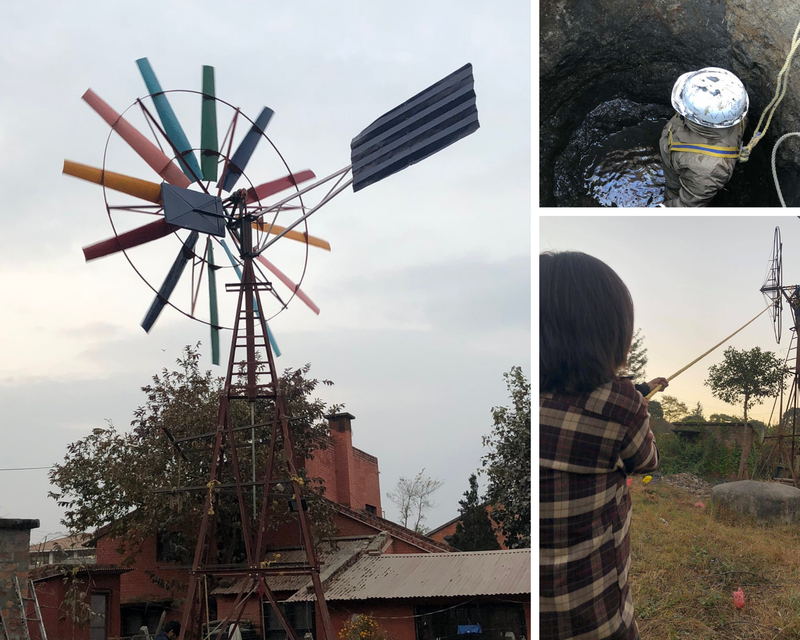 Former Director of RECAST Prof. Dr. Rameshwor Adhakari suggested that the NIC team renovate the broken wind pump, so that it may act as an example of the viability of wind-based solutions. Finally, two months ago on November 12, after reaching an agreement, the NIC team began work.
The wind pump and the area surrounding it were in a terrible condition, dilapidated and on the verge of collapse due to years of negligence. The team disassembled the entire installation, removed the rust, reinforced the tower and made new joints and bolts. The old pumping system had completely corroded, hence a new replacement was designed and built based on the old one. All designs have been documented and are available for future reference.
6 people worked continuously for 2 months to achieve this result, which is a beautiful wind pump with colorful blades now ready to supply water all over TU after 15 years of inactivity.
Check out our team in action at the gallery page here.