Manufacturing and distributions of PPEs to Hospitals
So far National Innovation Center has distributed more than 51,300 PPE gowns to more than 300 Hospitals, Primary Health Care Centers, Corona Isolation Centers, and Corona Testing and Treatment Hospitals of 58 districts of 7 provinces of Nepal. The local governments are sending their vehicles to National Innovation Center to get PPEs and other items. Depending upon the size of the hospital, we are distributing 25 to 30 PPs to big hospitals, 15 to 20 PPEs to medium size hospitals, 10 to 15 PPEs to Primary Health Centers/Corona Treatment Centers and around 5 PPEs to small health clinic in the villages. People are coming at the center to pick up the PPEs and other items.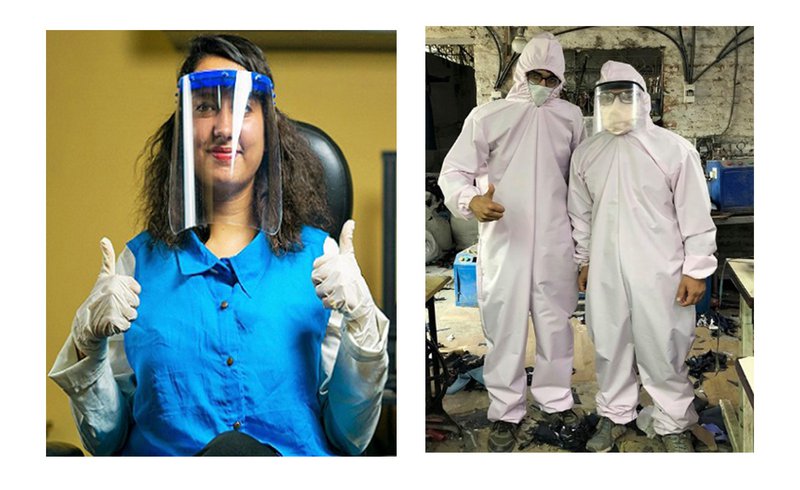 Distribution of PPEs to Ambulance Drivers, Security Personnel and hospital staff
Distribution of PPEs to Ambulance Drivers, Security Personnel and hospital staff – Most of the hospitals provided PPEs to limited number of their medical professionals and health workers only. Therefore NIC was requested for PPEs by ambulance drivers, security personnel working at Nepal India Borders, Emergency Rescue Squad of Police, hospital personnel such as nurses, junior doctors, interns, cleaning staff working at the hospitals. NIC, so far, has distributed more than 51,300 PPE gowns, gloves and surgical masks to those people, who were working for the fight against Corona.

Developed Nursing Robots to deliver food
Because of demand from isolation centers at Corona hospitals, a simple but autonomous robot or trolley to deliver food and medicines has been developed and tested at the innovation center. More than 6 Nursing Robot has been built and delivered to the different hospitals. Nepal Army Hospital, Birjung Hospital are few of them.
Note*: More units are currently under development and shall be made available for isolation wards soon.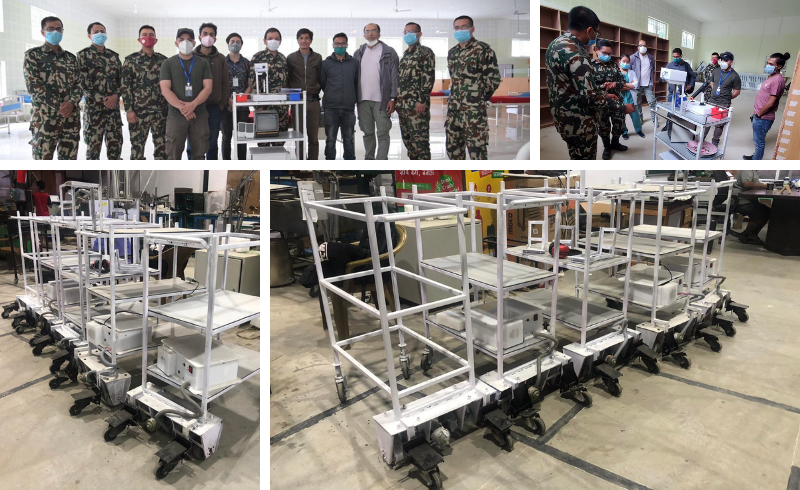 Pneumask Project and PAPR
Various kinds of PPE's(Personal Protective Equipment's) are used in efforts to reduce the spread of this novel Coronavirus (CoVID-19). The PPE suits, face shields, face masks are used widely by the frontline workers battling against the CoVID-19. However, there have been only a few of such products which can be re-used and provide a better protection against this deadly virus. Here, we have the Pneumask project and PAPR(Powered Air-Purifying Respirator) implemented for the first time in Nepal with collaboration with the Prakash Lab at Stanford University.
So far more than 152 units of Pneumasks and 92 units of PAPR have been distributed and we wish that they will help keep the frontline workers safe. Click here to learn more about Pneumasks that we derived from The Pneumask Project.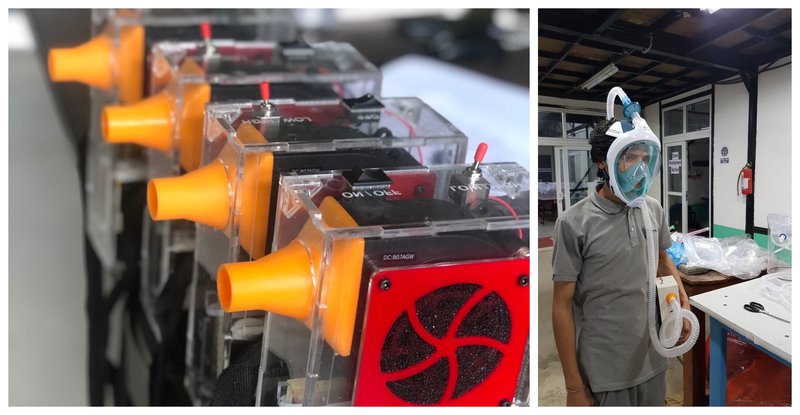 Development of a positive pressure hood for isolation and non-invasive ventilation
Covid-19 causes significant numbers of patients to develop respiratory symptoms and thus require increasing interventions. 100 units of the equipment are currently under-development and more can be made as per demand. Initially, the treatment for severe respiratory failure included early intubation and invasive ventilation, as this was deemed preferable to be more effective than Non-Invasive Ventilation (NIV). However, emerging evidence has shown that NIV may have more significant and positive role than initially thought. NIV is thought as an appropriate bridging adjunct in the early part of the disease progress and may prevent the need for intubation or invasive ventilation. Patients requiring NIV may also be nursed in locations outside of the critical care unit.
To address the increasing numbers of active Covid-19 cases causing respiratory distress and thus requiring intervention through ventilation, National Innovation Center (NIC) in collaboration with clinicians from Patan Academy of Health Sciences (PAHS) has developed a positive pressure hood for isolation and non-invasive ventilation of individual patient with Covid-19.
The product has been tested and used by several clinicians from several hospitals in the Kathmandu valley and have been accepted for use in patients. The materials used are locally available however key issues like biocompatibility and reusability through standard disinfection protocols are considered. Medically accepted products such as PVC and ABS are used in the design of the product. Normal prices for the hood in the market costs up to NPR 25000, whereas the hood designed by NIC will have a cost of tentatively NPR 3000.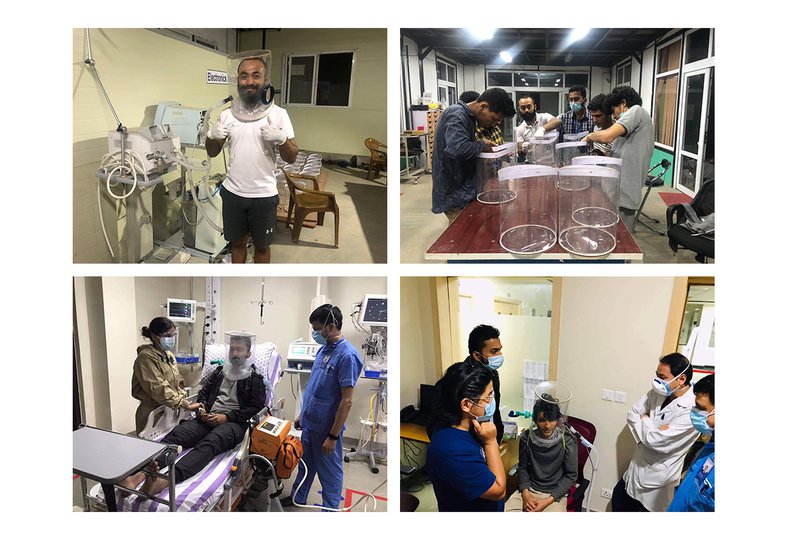 Development of Isolation Boxes
Corona infected patients can be transported in ambulances by keeping them in sealed enclosures as shown in the first photo below. Our researchers worked tirelessly without sleep for 3 days to design, build and test these items. Using this box and keeping the infected isolated, the health workers as well as relatives may travel alongside. It drastically reduces the chances of infection.
How it works - The box is sealed air tight after the patient is placed inside. HEPA filter is placed on the ventilations, that filters the air out of the patient's mouth and nose. The box has a battery running the fan which circulates the airflow in a way that makes it easier for the patient to breathe. So far NIC has distributed more than 30 Isolation Boxes.

Repair work of broken ventilators and kidney dialysis machines of different hospitals
National Innovation Center received request from several hospitals for help to repair their broken ventilators and medical equipment. We discussed with Nepal Biomedical Association and created a team of volunteers of biomedical engineers and sent them to different hospitals. We found that there were 85 broken ventilators and 24 kidney dialysis machines in different hospitals. More than 42 ventilators and 18 kidney dialysis machines have been repaired so far and are ready to be used by hospitals. The biomedical volunteers are trying to fix more machines as well despite being difficult to get spare parts. NIC is helping them to fix those machines free of cost.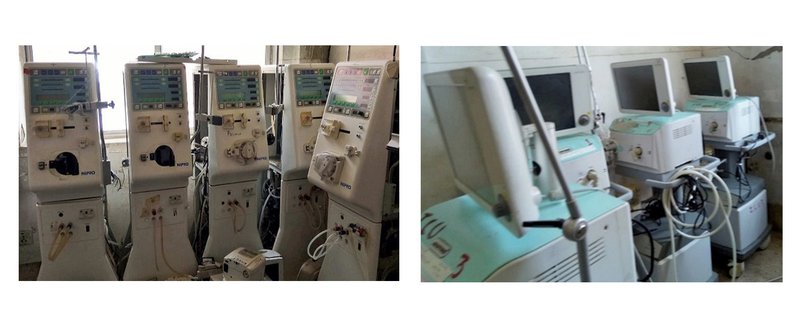 Developed disinfection box using UVC (Ultra-violet C) light
Because of the acute shortage of N95 masks and protecting equipment in the market NIC has developed and tested UVC chamber to disinfect the used N95 masks, face shields, PPEs for reuse. The system was tested at Teaching Hospital in Kathmandu and at the laboratory of Microbiology Department of Tribhuvan University. Now we are producing 33 of those UVC boxes at NIC and distributing them to hospitals.

Manufacturing and Distributing Corona Booth
From the Internet, our engineer learned that hospitals in South Korea were building a special booth to separate the doctors and Corona patients while collecting swab of the patients. We found that those booths are helpful to protect health workers, our engineers redesigned the booth based upon the materials that were available. NIC asked engineers in different parts of Nepal to build booths for hospitals, where they treat Corona patients and collect swab for testing. The districts where NIC has distributed the booths are Jhapa, Sunsari, Dhankuta, Rautahat, Janakpur, Parsa, Bara, Chitwan, Sindhuli, Udaypur, Bhaktapur, Dolakha, Kavre, Kathmandu, Dhading, Kaski, Baglung, Rupandehi, Surkhet, Dhangadi, Mahendranagar. More booths are being built because there is more demand especially from the Terai region of Nepal.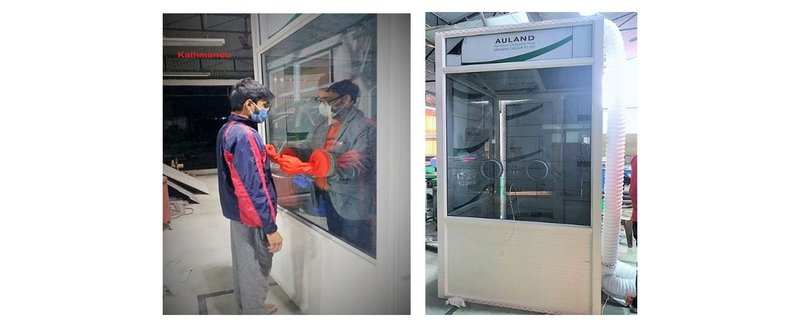 Making Nasal Swab
NIC is now making Nasal swab, a plastic strip that is used to take swab of people from nose and throat for testing. For that, NRANA Japan, MRR Japan and other Nepali donors raised money and helped to buy a special 3D printer in Japan. They sent the machine to Nepal and now we are printing the plastic strip. The nasal swabs are being made and handed over to the different government hospitals free of cost.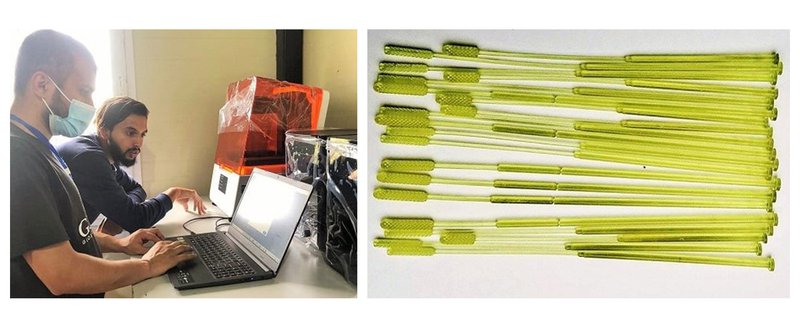 Manufacturing and Distributing Aerosol Box
Our engineers have developed a simple box made from transparent acrylic sheet, which is good for protecting the doctors from the sneeze of patients, while they are treating Covid-19 patients. It has been named aerosol box and we found in the Internet that hospitals in other countries are using similar boxes.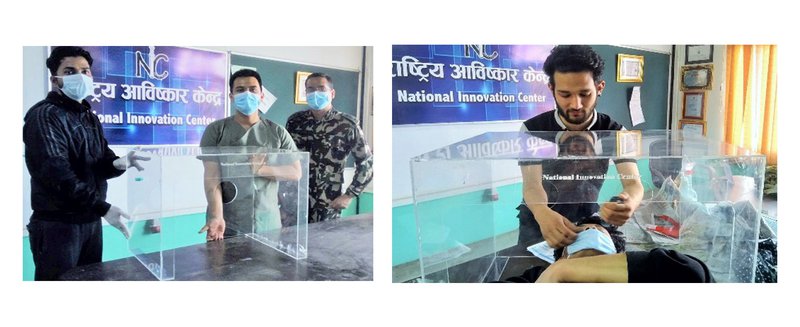 Developed Dead Body Bag (Cadaver)
Managing the dead bodies of Covid patients has been difficult in Nepal. Handling infected bodies with care is important to limit the spread of the virus. Therefore NIC decided to help develop a special bag for putting the dead body in and carrying it safely. We made two samples of the bag and have given to Nepal Army for their suggestions and inputs. We collected the feedback from Nepal Army and NIC gave more bags to them. The reason we planned to give the bags to Nepal Army is because the government has given the responsibility of managing the infected bodies to the army.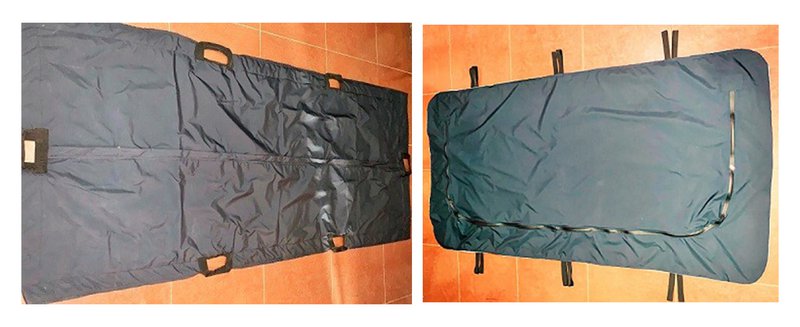 Developing and testing some other useful devices
There are some other useful medical devices that are being developed and tested at the innovation center in order to help minimize the outbreak of Corona virus. Some of the concepts and ideas to develop the different things were given by people through email and some ideas were come through the collaboration with research universities from the US and the Netherlands.
Developing masks using HEPA filter and N99 filter as alternative mask – There is huge shortage of N95 masks in the market. Alternative masks using the fabrics of HEPA filter and N99 filter have been made and are being tested at the laboratory of Tilganga Eye Hospital in Kathmandu. The test result looks good. It has been found that HEPA filter can filter the tiny particles as well as N95 masks and N99 filter do better than N95 Masks. However, we were not able to make masks in large quantity because of the lack of materials. Now we are working the team of Stanford University to build a machine that can produce N95 mask quality fabrics from plastic. Click here to know more about the Project.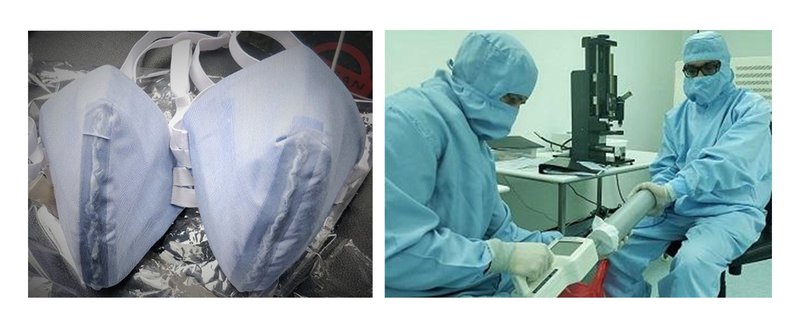 Developing Emergency Ventilator – Initially, in our efforts to develop a cost-effective ventilator solution, the E-Vent design developed by MIT was adopted and a working prototype was developed. Apart from that, assistance and guidance was also received from TU Delft, Netherlands, in the form of engineering diagrams. Now NIC is working with the team of Prakash Lab of Stanford University to make more ventilators based upon their open source design. We have received some spare parts from Stanford and our team is also fabricating some parts. The information about the ventilator can be found here.
The first version of the Stanford ventilator is ready and is under testing. Now our bio-medical engineers are working on second version of the ventilators. The ventilator is going to cost less than $1,000. A not-for-profit organization based in San Francisco called Give Power has provided $20,000 for the production and testing of emergency ventilators.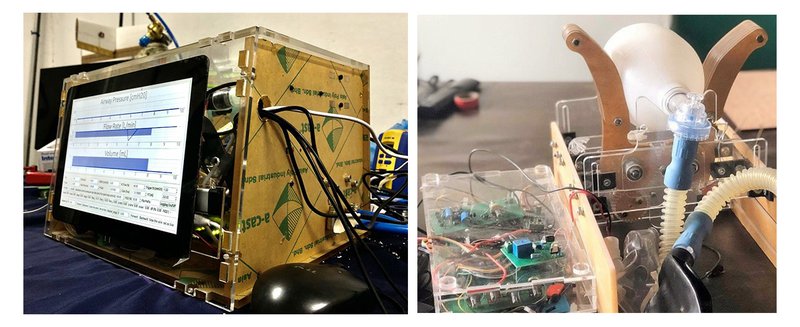 Developing aerosol box for ENT doctors – Researchers at NIC are developing and testing a box made of plastic to help the surgeons of ENT. This system is being developed as requested and suggested by ENT doctors. The box will prevent the ENT surgeons from aerosol while they will be doing surgery of ear, nose and throat. This box provides ease and protection and minimizes the risk.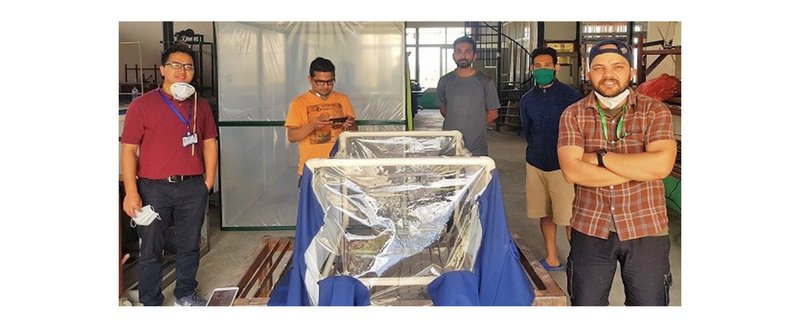 Developing Infrared Thermo-gun – Because of the lack of thermo-gun to measure the temperature of patients, local governments requested for help to get thermo-guns. Therefore we are developed 3D printed thermo-gun and tested them. Those thermo-guns can be produced if needed.

Technical Collaboration with International Experts
The National Innovation Center is currently collaborating with a team of professionals at TU Delft University in the Netherlands. The team from TU Delft has been helping engineers at NIC with emergency ventilators, masks, and UVC Disinfection Chamber. NIC has been in conversation with a professor and a doctor from the University of California San Francisco and the University of California Berkeley to build PAPR for healthcare PPE in Nepal. The more information about PAPR can be found here.
Now NIC has also collaborated with Prakash Lab at Stanford University to work on several COVID response technological products like ventilators, fabric producing machines for masks, UVC Disinfection Chamber and reusable PPEs etc. We are very hopeful that those collaborations will be fruitful.

Material Support from Nepalese Living Abroad
During this difficult time, when all the shops are closed and most of the international flights were not operating, supporters of NIC from Japan and the US raised support to buy highly needed tools, equipment and materials to make different items for COVID Response projects. More than 40 protective snorkel masks have been delivered to healthcare personnel in urgent need. Their contribution will be integral to our victory over the virus. NIC would also like to extend a special thanks to those individuals who helped to carry the materials over to Nepal with their baggage when they come to Nepal during the pandemic in 5 rescue flights that come to Nepal - 2 of the flights were from USA and 3 from Japan.